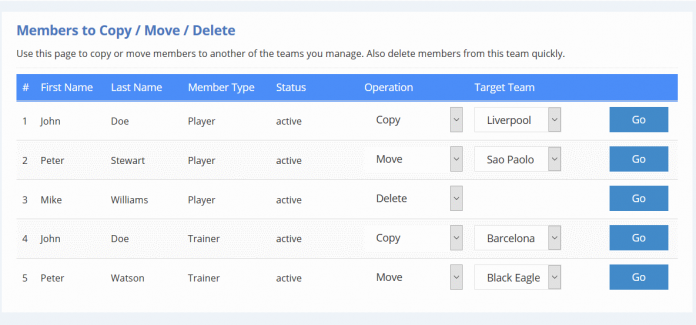 Managing multiple team rosters is a taunting job.
Fortunately, TeamTracky make it easy for coaches to copy or move members to another team.
Simply, login to TeamTracky using your browser and click [Members] in the menu, then [Copy/Move/Delete Members].
A list of your team's members will appear.
To copy or move a member, simply select the appropriate action at the "Operation" column and a team at the "Target Team" column. Click the [Go] and you done.
All member's information will be copied to the new team and the member will be deleted from the current one.
You can use the same form, to quickly remove members from your team.
Simply select "Delete" in the operations list.
Note:
Deleting a member can't be reversed, but some member data still remain with your team such as:
Member fees and payments (if there's a balance).
Member availability.