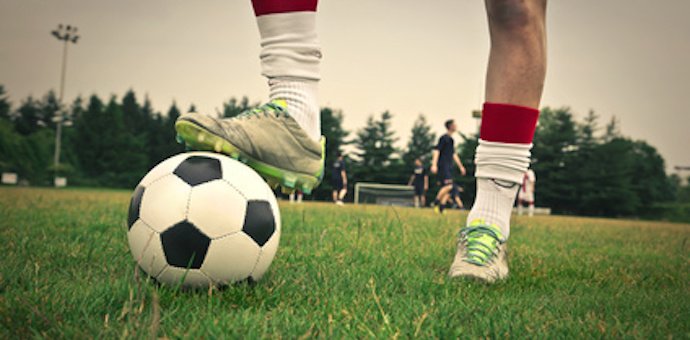 Soccer is perhaps the most demanding of all sports.
In the modern game (at any level) soccer training and conditioning is essential.
Few sports are played on as large a playing field, lasting as long and without regular rest periods.
Players cover 8-12km during a match, consisting of 24% walking, 36% jogging, 20% coursing, 11% sprinting, 7% moving backwards and 2% moving whilst in possession of the ball (1).
Soccer players posses excellent endurance with VO2max reported to range between 55 and 70 ml/kg/min in elite performers (2,3). The game is played at an average intensity close to the lactate threshold – approximately 80-90% of maximum heart rate (4,5).
How important is the correct type of endurance training in soccer?
The greater a player's aerobic capacity, the more ground they cover during a typical game (5,6). Additionally, improved endurance also increases the number of sprints completed in a game (7). By improving the VO2max of youth soccer players by 11% over an 8 week period, a 20% increase in total distance covered during competitive match play was manifested, along with a 23% increase in involvements with the ball and a 100% increase in the number of sprints performed by each player (5).
What about other forms of conditioning?
Strength training now plays a major role in soccer. However, simply lifting weights with the traditional "3 sets of 10 repetitions" approach is not an efficient way to spend training time. Soccer requires a balance of explosive power and muscular endurance. Some players may benefit from increasing their lean mass but even they should focus on converting much of their strength into soccer-specific power.
Strength training for soccer also helps to correct muscle imbalances. Soccer players in particular are prone to developing overly strong quadriceps in relation to their hamstrings and a well-formed strength plan can address this and prevent future injury (8).
The articles below cover all the important forms of soccer training and conditioning. Strength and endurance training is covered in-depth as well as sample speed and agility sessions, flexibility training and warming up and cooling down.
Soccer Training Programs & Articles
The 12-Month Soccer Training Program
Soccer players have to be the "total athlete". But it's never a good idea to cram every type of training into just a few sessions. Here's the big picture and how all the different types of training fit together…
How to Develop Peak Strength for Soccer
Strength training for soccer must consist of more than just lifting weights. In fact strength training, done incorrectly, can actually hinder your performance…
Sample Soccer Weight Training Program
Here's a sample late pre-seaon/in-season weights program to get you started…
How to Develop Blazing Speed for Soccer
Speed is more important in today's game than ever. Every player can become quicker with the right approach…
Five Soccer Speed Drills
Use these speed drills to increase your speed over short distances and off the mark…
Six Soccer Agility Drills
Use these agility drills to improve your foot speed and co-ordination…
Using Soccer Plyometrics to Increase Your Speed and Explosive Power
Plyometrics is a powerful form of training but you MUST get it right…
Endurance Soccer Training – Build Your Aerobic Power
Good aerobic power forms the foundation on which the rest of your fitness is built…
Four More Soccer Conditioning Drills
Here are some drills that improve your skill and touch as well as your fitness…
Off Season Soccer Training
Doing nothing during the closed season is the worst thing you can do – here's what you should focus on instead…
Basic Soccer Conditioning Program
Strapped for training time? Just want a basic routine to get you through thee season. Try this one…
Soccer Warm Up Drills
"Fail to prepare and you prepare to fail" as they say. Here are some good warm up drills you can use before sessions…
Soccer Stretching Exercises
Flexibility is so important in ANY sport – yet it often gets forgotten. Did you know that increased flexibility can increase your agility and ability to perform fine skills?
How to Measure Your Level of Soccer Fitness
How important is soccer fitness? Here are some very interesting facts about how fit you have to be…
Original article by:
https://www.sport-fitness-advisor.com/soccertraining.html